Fermentation Systems
I've listed a few of the most popular systems for making ferments, but there are many more available on the market now. A simple search for "Fermentation Kit" on Amazon will result in many different brands with slightly different looking systems that do the same thing.
Feel free to use whichever you like.
The Jar Method
A few jars is all you really need for this challenge. It's the simplest system for making fermented veggies.
You can use any glass jar you have laying around the house to make ferments or a standard mason jar. I use a standard Wide Mouth Quart size Mason Jar for all my recipes, but you can reduce most of the recipes by half or divide them up into a pint size jar or double them and make a larger amount in a 1/2 gallon mason jar.
Choose a wide mouth mason jar, because it's easier to stuff contents into it.
You can find them on Amazon here.
Or you can find them in most grocery stores. Buying them in a case of 12 is usually a better deal than purchasing them individually. Trust me, you'll find plenty of uses for them besides fermenting.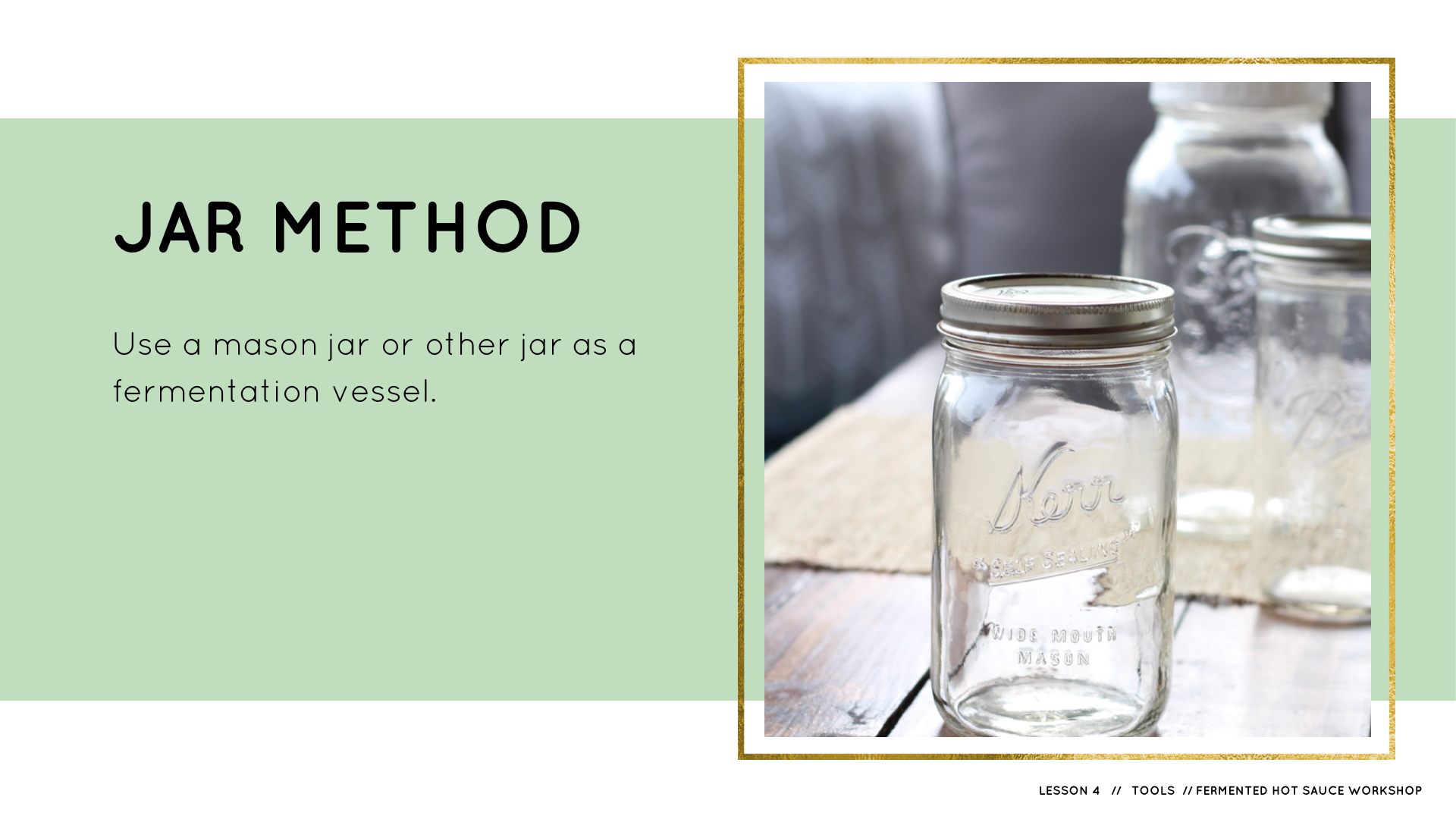 Waterless Airlock
These fit mason jars and allow the gas to escape while fermenting. They help prevent mold by allowing gas to escape but preventing air from getting in. I use them often and find them to be very convenient.
You can set them up and forget them for the most part. Pictured here is a Pickle Pipe by Masontops.
You can find them on Amazon here.
My favorite set up is a quart size mason jar with fermentation weight and waterless airlock.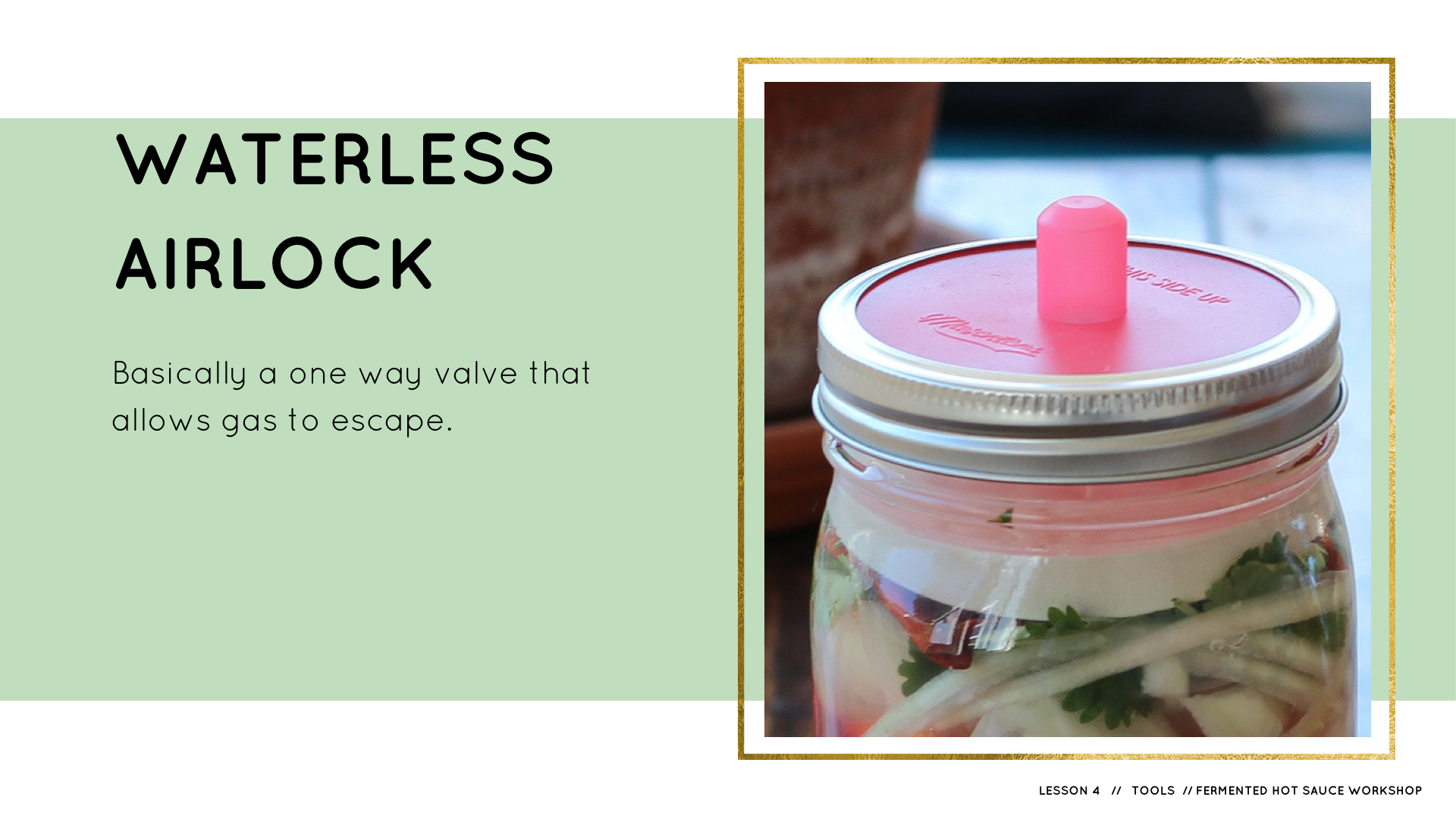 Water Airlock
Pictured here is a water airlock with silicone lid by Mason Jar Lifestyle. These fit wide mouth mason jars. There are many variations of these available online and they're inexpensive. Water is added to the airlock so gas can escape while preventing air from getting in.
The only downside is that the airlock is made of 3 pieces and I lose pieces all the time, which renders it useless. It's maybe best for someone more organized.
You can find affordable options here.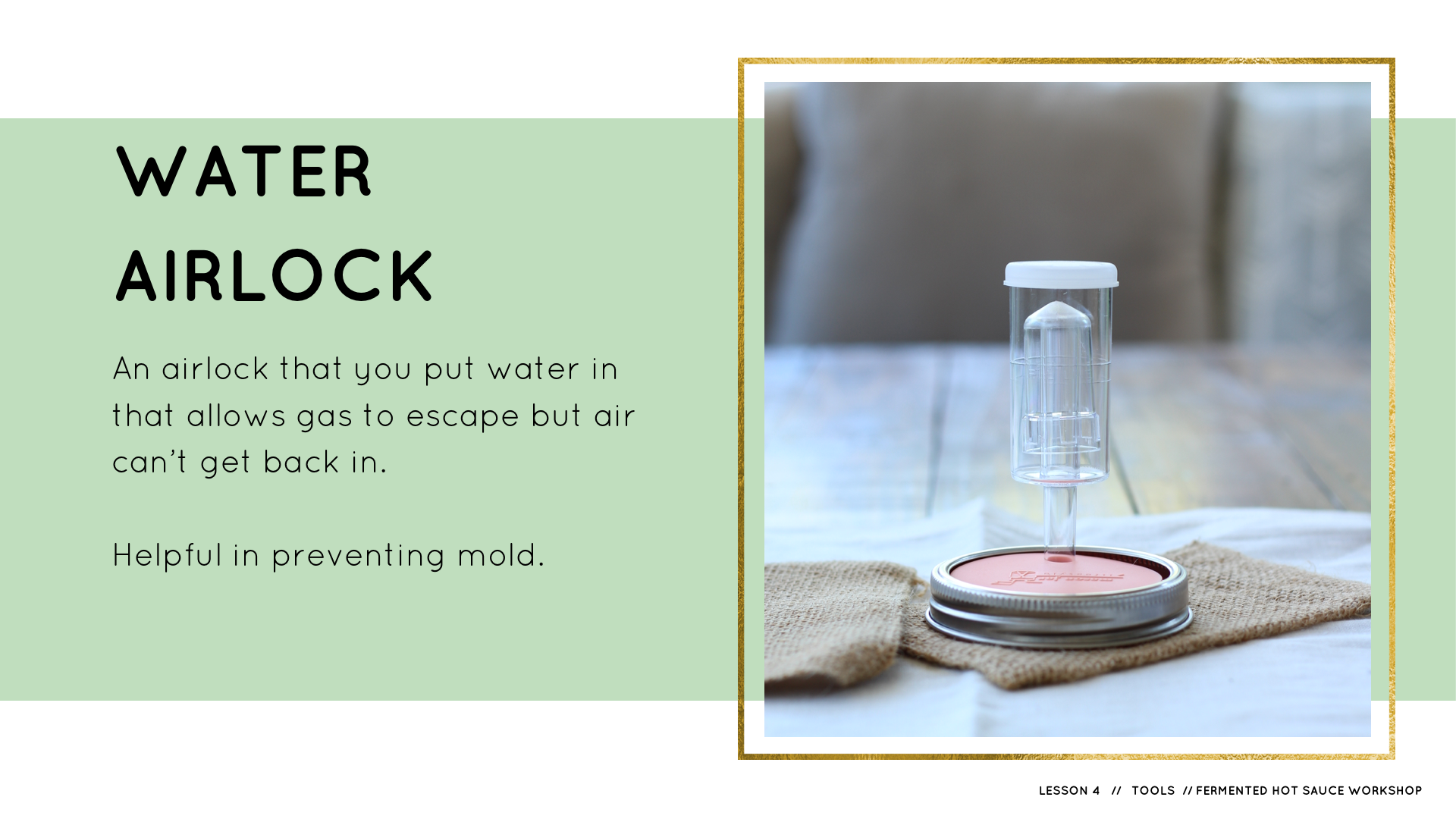 Ceramic Fermenting Crock
Ceramic fermenting crocks are more of an investment, but they have many advantages. Most fermenting crocks have a water moat the lid sits in that creates a seal that allows gas to escape and prevents air from entering.
They usually come with weights to keep the veggies submerged under the brine. They are mostly used for making large batches of ferments, but there are many different sizes and shapes of crocks available.
Since they are made of clay, they are thicker and heavier which insulates the ferment so the temperature inside stays consistent throughout the fermentation process. This makes a better tasting sauerkraut.
You can find some in different sizes and price points here.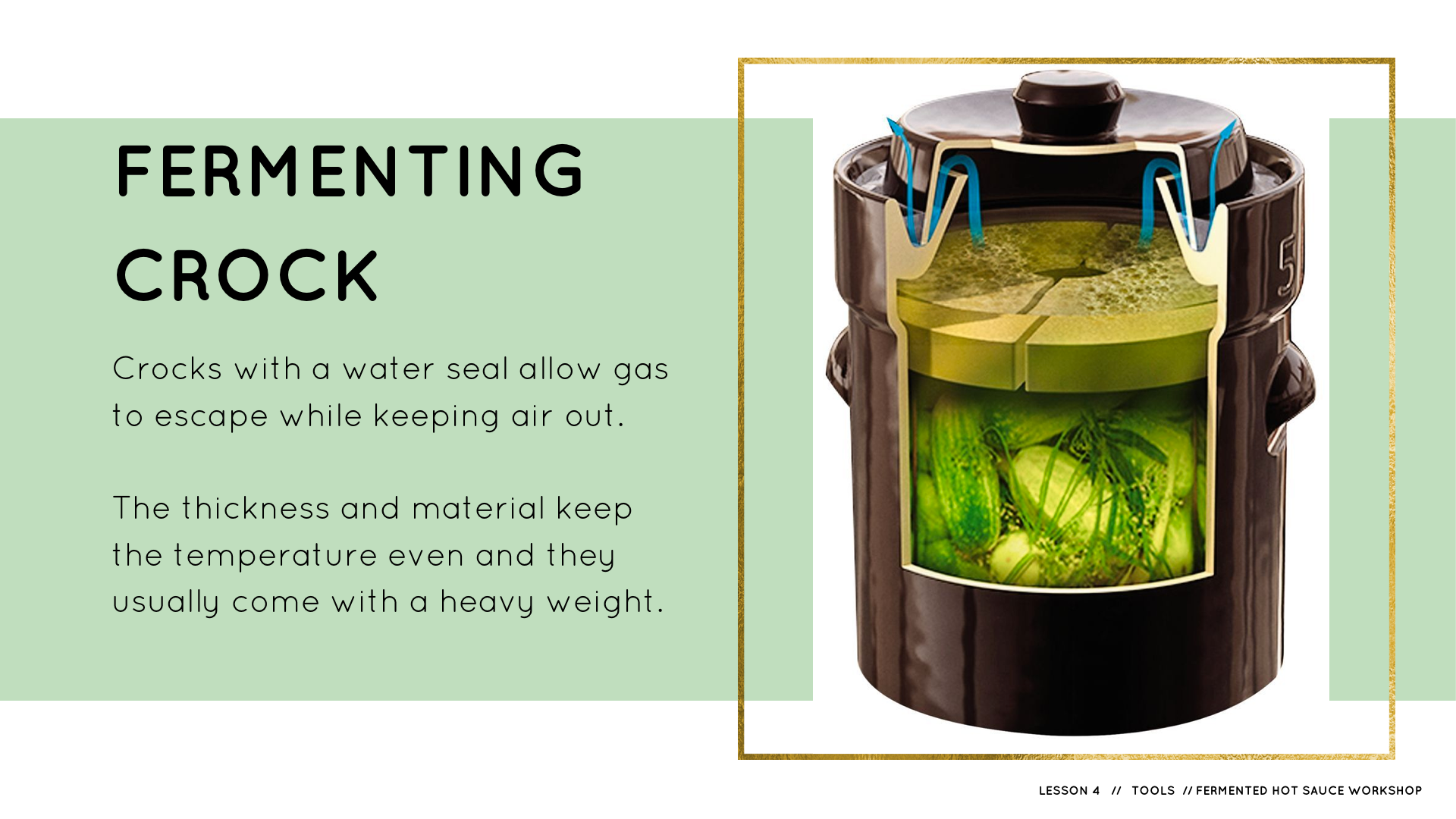 Other Helpful Fermenting Tools
Fermentation Weights
Fermentation Weights are the handiest tool in the fermentation tool box. They keep your ingredients submerged under the brine, so they don't develop mold. You can purchase weights, use a rock or a cabbage leaf, slice of onion or other vegetable to help weigh the veggies down.
Here are some more ideas for weights.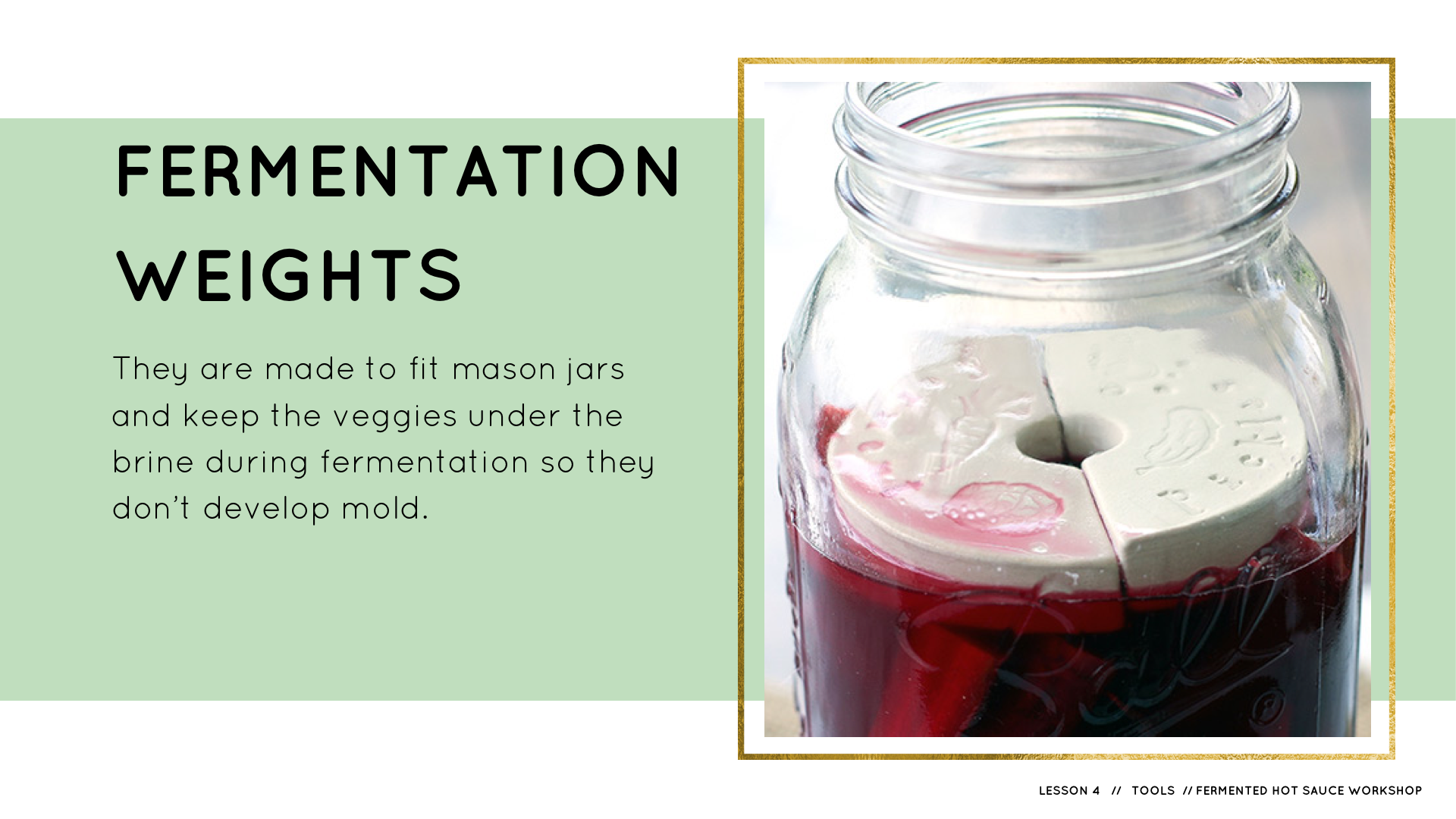 Vegetable Tamper
I waited awhile before I invested in one of these. I kinda wish i did sooner, because they help break down the cabbage faster when mixing and massaging. And they help pack sauerkraut in the mason jar really tight so there's no air bubbles. If you plan on making sauerkraut frequently, I highly recommend a tamper.
Link to my favorite tamper, the Pickle Packer here.